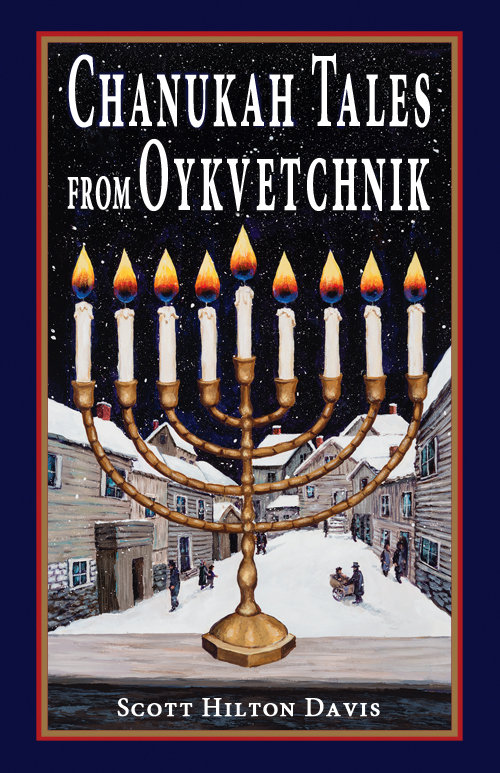 CHANUKAH TALES FROM OYKVETCHNIK
By Scott Hilton Davis
Illustrated by Amy F. Levine
Celebrate the holiday of Chanukah, the Festival of Lights, with eight original short stories by Jewish storyteller Scott Hilton Davis.
Enjoy a fun-filled journey to Oykvetchnik, the tiny shtetl town in Eastern Europe where people complain a lot (except during Chanukah when they seem to be a little more charitable).
Meet Chaim the Chanukiyah, the nine-branched menorah, who feels out of place in his new home, Myzeleh the Mouse who helps a poor orphan boy find his true calling, Pinchas ben Mordechai who survives 25-years in the Tsar's army, Reb Shimon the Shammes who has lost the synagogue's big menorah, Channele the Rabbi's daughter who finally meets her besherter (her soul mate), and the kind-hearted Dovidl who fears the town's beggar may be the rightful owner of his family's new pawnshop menorah.
One for each night of the holiday, these sweet and poignant Chanukah stories will fill your heart with the light of Jewish history, culture, and values. As the candles burn low, spend a few minutes remembering the lives of our ancestors and how they joyfully celebrated their Jewish traditions.
Chanukah Tales from Oykvetchnik is a storybook to be read each year as the chanukiyah comes off the shelf, dreidels start spinning, and the smells of freshly fried latkes waft through the house.
Published by Jewish Storyteller Press. ISBN 978-0-9975334-1-5.
SOULS ARE FLYING!
A Celebration of Jewish Stories
Retold Jewish Stories by Scott Hilton Davis
A collection of ten short stories based on the writings of beloved Jewish authors, Sholem Abramovitsh, Sholem Aleichem, I. L. Peretz, and Jacob Dinezon.
Collected and retold by storyteller, Scott Hilton Davis, these new adaptations celebrate Jewish heritage, culture, and values. Stories include "Mendele the Book Peddler" by Sholem Abramovitsh, "If I Were Rothschild" and "Elijah the Prophet" by Sholem Aleichem,  "If Not Still Higher" and "Bontshe Shvayg" by I. L. Peretz, and for the first time in English translation, "Motl Farber, Purimshpieler," "Borekh the Orphan," and "Mayer Yeke" by Jacob Dinezon.
Written to be read aloud, these Jewish stories from the late nineteenth century will make you laugh, maybe bring a tear to your eye, and fill your heart with the joy of yiddishkayt and Jewish culture. Perfect for Jewish book clubs and religious school classes. A great gift for bar or bat mitzvah, confirmation, or Chanukah!
Published by Jewish Storyteller Press. ISBN 978-0-9798156-9-0.
BETWEEN HEAVEN AND EARTH
Four One-Act Plays
Based on the Stories of I. L. Peretz
Adapted for the Stage by Scott Hilton Davis
An entertaining collection of four one-act plays based on the Yiddish short stories of the 19th-century Jewish writer I. L. Peretz. Plays are appropriate for middle school, high school, and adult audiences.
Bontshe Shvayg (Bontshe the Silent). Throughout his hard and painful life on earth, Bontshe Shvayg is silent; his existence insignificant. But when he dies, the Heavenly Shofar trumpets his arrival in Paradise. Offered anything his heart desires for his quiet and saintly behavior on earth, Bontshe Shvayg's humble request dismays his Defending Angel and stuns the Heavenly Court of Paradise. (4 males; 4 females)
What Is A Soul? Three teachers—a stern, by-the-book Talmud teacher, a mystical Chassidic rebbe, and a "freethinking" Yiddish writing tutor—compete for the heart, mind, and soul of a young Jewish student. (4 males; 3 females)
Empty Handed. (Based on Peretz's short story, "At the Head of the Dying Man.") When the White Angel arrives to escort Rivke-Beyle's soul to heaven, she is surprised to find the Dark Angel from "the other place" already waiting beside the dying woman's bed. Rivke-Beyle's choice of which angel to accompany will surprise and challenge the thinking of your audience. (1 male; 2 females)
If Not Still Higher. A Litvak—a skeptical Jew from Lithuania—is determined to find out where the Rebbe of Nemirov really goes when he disappears each year between Rosh Hashanah and Yom Kippur. What the Litvak finds out about tzedakah—good deeds—changes his life forever. (3 males; 2 females)
Published by Jewish Storyteller Press. ISBN 978-09798156-2-1.